February 14, 2007Fairmont Hotel, Dubai UAE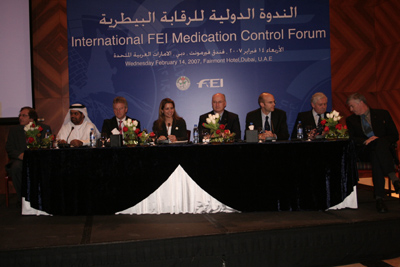 The first FEI forum on equine medication control was opened by FEI Secretary General, Michael Stone. He introduced the speakers, thanked everybody for their presence at this important meeting, and explained the purpose of the forum: to educate riders, trainers, veterinarians and officials, and to create an open dialogue between FEI and the equestrian sport community. The forum would include a series of slide presentations by various FEI officers and staff and an open discussion session, with opportunity for questions and concerns to be aired.
HRH Princess Haya Bint Al Hussein, President of the FEI, would be in attendance at the forum, to share in the goal of education and dialog between the FEI, the governing body of International Equestrian sport, and equestrian community - those whose lives, sports and careers are integral to the future of the sport.
Full Report