Gulf News
M. Satya Narayan, Staff Reporter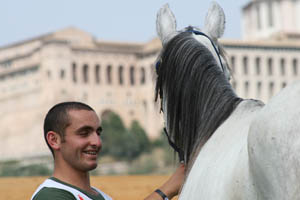 In the recent CEI Three-star 120km Bab Al Shams endurance ride held at Assisi in Italy, the organisers Assisi Endurance Lifestyle experiment with the new "Formula One Finish" which has been mooted to make endurance rides more attractive and spectator friendly.
As against the current practice of waiting for all the fit horses to complete the ride within the stipulated time, in Assisi the new move involved the closing of the out gates onto the course loops one hour after the arrival of the first horse to cross the finish line.
Any horse stopped by the use of the 'Formula 1' finish at a Vet Gate was still required to complete all Vet examinations and, in doing so, meet all of the parameters to continue even though not being required to do so.
FEI Press Relesase
[More ...]