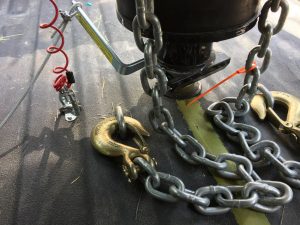 Trailmeister.com - Full Article
May 31 2019
by Robert Eversole
The Trailer Breakaway System –The breakaway system is your first line of defense is the event of a very bad situation.
This is vitally important safety device works with your trailer brakes to protect you and the people around you in the event that your trailer becomes separated from your vehicle. A separation event is unpredictable and highly dangerous. The breakaway system is designed to minimize damage and injury.
The system is made up of a battery on your trailer and a switch connected to a cable. One end of the cable attaches to your trailer, while the other end attaches to your vehicle. If the primary connection (receiver/hitch/coupler) between your vehicle and trailer fails, the trailer will pull the cable as it breaks free. The switch will actuate the battery and firmly apply the trailer brakes to slow the trailer. – [NOTE: safety chains are NOT part of the primary connection between truck and trailer. They are a last resort.]
Always securely connect the breakaway cable to your vehicle. You can test the breakaway system by pulling the cable. Your trailer brakes should immediately activate and lock up the tires. To disengage, simply replace the key in the switch...
Read more at:
https://www.trailmeister.com/trailer-breakaway-system/?fbclid=IwAR1AaCWizMXqIo1mXcr7-OE6eX8TT1A4CcnVziNQT4CgHkKSo4biQfHTl3c