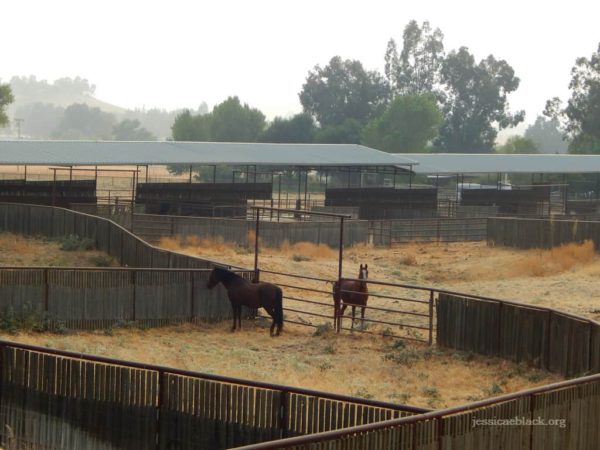 JessicaEBlack.org - Full Story
September 18, 2020 / Jessica Black
Fantazia's endurance training has been put on hold due the the insane fire activity in California (and much of the West coast). Riding in smoke from wildfires is a bad idea. When I got up Sunday morning, I thought I had escaped the worst of it. I had gone to Paso Robles to train in the deep sand of a riverbed (see my post on Conditioning in Deep Sand), and I extended my stay because Paso was one of the few places in California that did not have dangerous air quality.
Then on Sunday, as I was getting ready to go on a ride with my friend Laurie, I received a voluntary evacuation notice from the Tulare County Emergency Alert system. That was for where I live with my boyfriend. After an intense exchange of texts with my brother and mother, I determined that they were on mandatory evacuation. I had my boyfriend's truck and trailer. My family needed me (my son texted as much). I didn't want to get blocked out, if the situation worsened. I headed home. The Sequoia Complex fire
The Sequoia Complex Fire (SQF) is actually two fires. The Castle Fire started in the Golden Trout Wilderness (destroying my plan to ride in Shake Camp to Maggie Lakes). The Shotgun Fire started just south of Sequoia National Park. Now they have joined and are consuming much of Sequoia National Park. Sequoia and Kings Canyon National Parks are the land of giant sequoias, below the timberline. And a lot more, peaks, lakes...
Read more here:
https://jessicaeblack.org/the-road-to-the-tevis-cup-post-11-not-riding-in-smoke-from-wildfires/