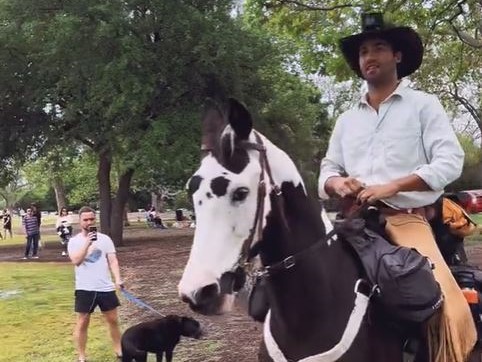 LMTOnline.com - Full Story
Sana Ameer, Hearst
April 12, 2023
A Texas man is keeping a family tradition alive by quitting his six-figure job to travel across the country on a horse.
"In my family, there's a tradition that the eldest son of each generation does a great, big adventure," Cyril Bertheau said. "It's kind of my turn."
Bertheau is following in the footsteps of his father who backpacked around the world in 1984 and his grandfather who traveled the desert on foot. For his adventure, Bertheau bought a 13-year-old Tennessee Walking horse for $3,000 off Craigslist and plans to ride about 2,300 miles from Austin to Seattle in just around 100 days...
Read more here:
https://www.lmtonline.com/news/article/texas-man-quits-tech-job-ride-horse-across-america-17891978.php