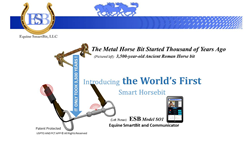 PRWeb.com
Imagine Horse Owners and Trainers having the ability to communicate with their horse to see how they feel in real-time.
PENSACOLA FLORDIA, USA (PRWEB) OCTOBER 17, 2016
"It's about time that animals have the ability to tell humans how they are feeling" according to Ann Sears, one of the owners and investors of Equine Smartbit, LLC. Equine Smartbit, LLC has successfully developed and will be soon launching a comprehensive equine kit which aims to revolutionize the Equine Industry. Ms. Sears, an attorney, C.P.A. and investor says, "when I saw the horse's metabolism (Blood O2%, Temp., BPM and more) being accurately read by the smartbit developed by the company, my jaw dropped and I realized the implications for all animals." Equine Smartbit strives to increase the odds of winning horse races, endurance racing and equine performance in all sports.
The Equine Smartbit will improve equine health through giving the human an understanding of how feed, digestion, injury and other physiological set-point measurements impact one particular horse. "I also loved that the fact that the horsebit is designed to accommodate all bit sizes and uses. The difference is now it's smart and has the ability to communicate between the horse and human."
"Our company is in the position to be a dominate leader in the multibillion dollar biometric and wearable space and we have the core patents to prove it," says Ms. Sears.
Equine Smarbit LLC has made device that:
• Analytically matches a horse's performance with the horse's biometrics through a network of advanced wearables, including the world's first smart (horse) bit
• Allows real-time or near-time biometric data streams
• Gives you a composite of the horse's energy level
• Sends alerts when a racehorse's physical condition is less than optimal
• Significantly improves an equine's physical safety through communicating the horse's biometrics in real time during training/performance.
Equine Smartbit, LLC is a high growth merger of hardware, software, and tool kits that aim to revolutionize future equine training and performance. Equine Smartbit, LLC is in an alliance with Sports Guidance Technologies (SGT) advanced biometrics for human sports and Wearable Networks, LLC advanced biometric for health.
Our company is developing and launching a comprehensive developer's tool kit which will give users a decisive advantage over current recreational devices on the market. According to Ms. Sears, "the system will enable professional equine trainers to achieve a new level of excellence during both the equine's training and performance." For example, the system includes a patented equine smart bit for a racehorse that will measure the horse's physiology as it compares to the horse's race times.
"We are proud to license and implement the patents and visions of Mike Saigh, one of the premier inventors in the World" says Ms. Sears. Mike Saigh's past inventions include the first electronic book, video on demand and many others. Please view Inventor Saigh's bio at http://www.liquidrarityexchange.com/our-firm/about-the-inventor.html
Please visit the company's website at
http://www.sportsguidetek.com/equine-products.html
for additional information. Please contact us at phone: 850-476-1040 or email: ESB.PublicRelations(at)gmail(dot)com