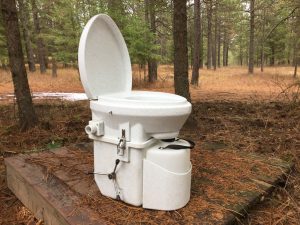 Trailmeister.com - Full Article
Adventures with Composting Toilets.
November 14 2018
One of our earliest questions with the Trailer project was how were we going to handle the "facilities." You know, poop happens. Horses do it. Birds do it. And children of a certain age find the subject fascinating. Here's my scoop on poop.
Most of the places where we venture are devoid of any hookups, and many don't have toilet facilities, sometimes when they do they aren't something that you'd want to use. Although the Forest Service often refers to vault toilets as "Sweet Smelling Toilets" or SST's. The first "S" is frequently not so sweet.
Also, as dry campers, a huge concern is stretching our fresh water supply. We want to stay at remote trailheads as long as possible, anything that helps with that is a plus.
Our main concerns with a lavatory for the trailer were:
Reduce Water usage – Fresh water usually isn't available when boondocking so we wanted to conserve as much as possible.
Eliminate holding tanks – Forest Service roads in the west are notoriously rough. I've seen first-hand where holding tanks and sewage pipes have met rocks and left a calling card of green goo trailing behind.
Avoid RV dumps – In the west, full service facilities are few and far between. On extended trips having to find an RV dump every few days seemed like a hassle.
I found three different types of commodes that address these concerns:
Bucket Toilets – Ultra cheap – Fills quickly
Cassette Toilets – Fills quickly – The horrors of dumping.
Dry or Composting Toilets – No Smell – 3 to 4 weeks between unloading solids...
Read more here:
https://www.trailmeister.com/composting-toilets/