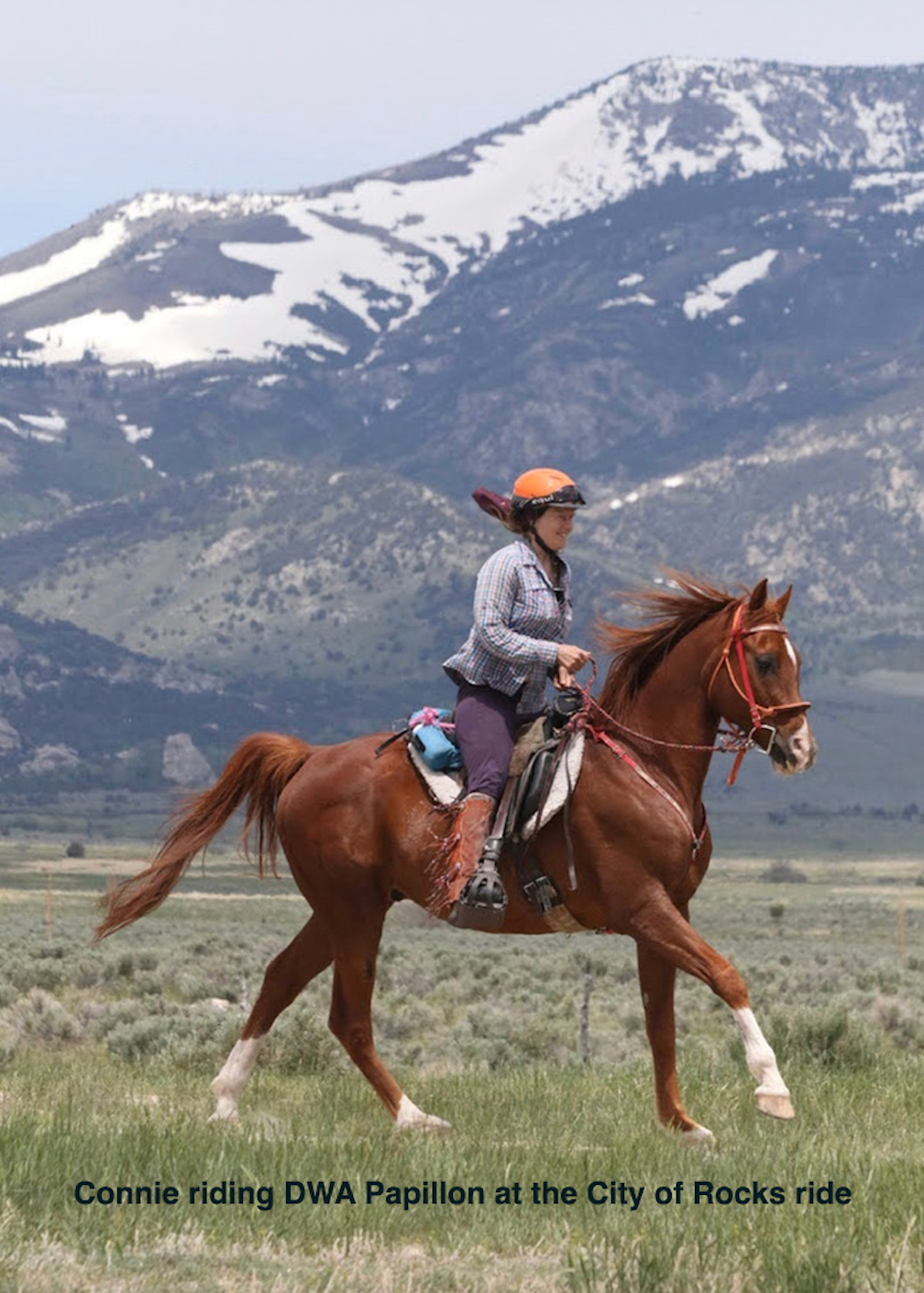 September 9 2023
Meet Pacific Northwest Endurance Rides (PNER) member Connie Holloway from Oreana Idaho. Her journey to endurance riding has covered many miles of hard work and excitement. We asked Connie to share her life story with horses in her own words. Enjoy getting to know more about our energetic fellow endurance rider!
Connie:
I am not sure how I discovered horses I know I was getting into trouble in second grade, doodling horses all over my notebooks and papers. I was drawn to them, but being a city girl, I did not have access to horses. I grew up in Seattle and probably read every horse book in my elementary school library. I didn't try very hard in school, and my parents decided to dangle riding lessons in front of me in exchange for a better grades. So when I was eight or nine, I started taking English riding lessons and eventually was jumping.
At age 14, I went to the race track with my friend and her mom. A boy snuck us to the backstretch at Longacres a thoroughbred race track. I was mesmerized by the energy and the beautiful powerful horses. I met a woman trainer who was so kind and welcoming, When I left, I was determined that I would be working there next year. The next spring I convinced my dad to take me out there and I shyly walked around the backside going into barns asking for a job grooming horse .With no luck I started to say I would work for free. When I walked into barn, 7B, I was met by a group of young people. They said I could work there with them. I started on weekends during the school year. When school let out, I was there for three months, seven days a week, taking care of five horses and I was in heaven. Living and breathing horses. Since I knew how to ride, I got to also pony horses to the starting gate during race days. At first, it was a bit daunting to be in front of the crowds, a mix of loving the excitement and fear of not wanting to make a mistake in front of everybody. A mistake would be getting runoff with on the pony horse which people did!
While still in high school, I learned how to exercise the race horses starting on the two year olds, getting paid a dollar a horse! In spring came when the horses moved to the race track I was hired to exercise the horses. My first summer I had to ride super short irons, and I got runoff with here and there. I eventually learned how to cheat and get them pulling against themselves and not me. I learned to ride longer to get the horses to relax better for galloping and only put my irons short when I was working horses at racing speed or super tough horses where I needed the leverage.
After graduation, I continued riding and went to Bay Meadows in the fall, and Golden Gate in the winter in Northern California. This was my career for 23 years. I feel really blessed to have had these experiences because they taught me so much while riding hundreds of different horses. On the side I bought horses off the track and re-schooled them as jumpers. I bought Vested Gold, having been his track groom. He became "Casper", a fabulous jumper. He was my love! (See his photos). The race track life was tough, working seven days a week no holidays; but facing the challenges and having the structure has served me well throughout my life.
In the early 1990's I met Merri Melde when she was a groom for the same trainer that I was exercising horses for. We stayed friends after both leaving the track for other paths in life. Merri is currently a well known endurance rider and equine photographer. In 2003 Merri invited me to 20 mule team to ride an LD on Jackie Bumgardner's 27-year-old horse Ross. I had fun but man that was a rough riding Arab and I thought if that's how Arabs went, I wasn't going to switch. Obviously I had no experience with Arabians because little did I know! The next year Merri began working for Steph Teeter and invited me up to help and ride at Stephs five day Canyonlands ride . I got to ride her horse Captain on an LD at her Canyonlands Ride. He was an obnoxious, bossy black horse. who later became mine and I renamed him Phinneas. I was told we deserved each other, and it was a good thing. I loved him and put up with him, because no one else would! Endurance was now amazing with the right mount! Phinneas was my heart horse for sure! He was a great grandson of the black stallion in the movie and I told everybody that would listen to me that. He was very confident and smart tough always right hardheaded, and a blast to ride. He reminded me of horses I rode at the track, very strong and competitive. He wore me out though, because he was an adrenaline horse and always wanted to go go go and compete. Sometime I just had to take a cross on him with the reins and put them on his neck and let him pull against himself!
I also was able to acquire acreage there and moved into the little endurance Mecca with other experienced endurance riders including Carol Brand and Linda Kluge, along along with Steph and Merri and Regina Rose just down the road. I entered the sport with so many mentors and was from the get-go assisting ride managers. What memories we all have and it is changed now. Karen Bumgarner now has Steph's place and Regina Rose and Merri live at my place so we still are a bit of a Mecca.
I was drawn back to riding because of endurance. Endurance combined my love of riding, and the natural world. Endurance folks remind me of race trackers, a rather hearty group of people not pretentious like the show world and like the race trackers it's family when you go to a different race track you usually run into someone you know. That is true with endurance rides. When you go to different rides in the PNER region you'll start meeting so many other people. It took me a while to meet people cause I just stuck in Idaho because I didn't have a horse trailer, but now Regina has been kind enough to trailer me with her to new rides out of state. So now I do feel I know a lot of the PNER community which is super fun. I love some of our cribbage matches at rides and just sitting around and laughing.
I can't say I really have a favorite ride. I love so many and there's so many I haven't gone to. Our Oreana neighborhood founded the City of Rocks ride. We had so much fun camping up there exploring for weeks on end to find trails . Up until this year we managed that ride and I loved being a part of it. I do really love hundreds because to me they are the ultimate challenge. While riding multi day 50s can be challenging as well. A lot of horse management and conditioning. Not all hundreds are the same and some are easier than others, but of course, weather can make the easy one super tough so there's that! I love them because you need to really condition your horse and yourself. They are a bit more unpredictable, and takes so much thought and care to you and especially your horse. The bond you have with your horse increases tenfold during 100 because you are riding them much longer and in the dark as well. It takes a lot of trust of your horse and yourself.
I also got my niece, Sarah Holloway into the sport when she was eight and we rode together for five years (see photos). We had some amazing experiences together riding. I will never forget, and I'm so grateful for all the support I got, and making that happen. Sarah loved PNER, the convention was so fun and they do so much to support juniors and honor them. Unfortunately when she was riding, there were hardly any juniors not like today. Come on keep it up juniors!! This summer Sarah texted me that her best childhood memories were endurance,riding with me. That's a pretty awesome text to get because it's a lot of work keeping the horse in condition for a junior that doesn't live close by. I see so many juniors now today having so much fun together and it makes me smile.
I actually did not know about PNER early on in my endurance riding. Nance Worman told me about it and said it was super fun and great prizes. I love the yearly PNER convention. They have so many different awards, lots of useful information, so many good speakers.and awesome vendors. But the funnest thing is getting together with everybody and you're not wearing riding clothes!
I did some training for DWA Arabians (Drinkers of the Wind) and became friends with Archie Bouttier and his wife Helen Bonner.This is how I got my horse DWA Saruq who is now retired. My current horses are DWA Barack and DWA Papillon who was a gift to me from Helen after Archie passed suddenly.
As for my endurance accomplishments, I have not won a lot of rides. I'm not sure that I've ever won a 50. I have gotten BC a few times and top 10 a lot. So not very impressive if you go by those stats. I ride to the conditioning of my horses and I'm lucky I've been mentored well. I'm not as competitive as I was in my 20s and 30s and have learned the hard way not to get caught up in placing at the expense of your horse. Nothing serious though. If you have an adrenaline horse, they will want to go even if they are not conditioned they are the ones that will get you in trouble. You're the one that knows how well you've conditioned your horse and is important for me to take care of my horse. I generally don't push it. I have over 6000 miles, which is a few and no idea how many racetrack miles I have LOL I'm still learning and each horse teaches me something different. I think I'm most proud of having two decade horses one over 3000 miles, which is Phinneas and DWA Saruq is just under 3000.
You asked what advice I might have for new riders; well I am really fortunate that I had so many mentors being in my endurance neighborhood that I didn't have to look for any. So if I were a newbie, I would definitely join green beans and get a mentor, a mentor with a good record of mileage and completions I knew a lot about being a good rider but not about horse management. There is so much to know in this sport. And it really takes a couple years. At least if you have a horse with no base to develop him to be competitive, I would say three personally if no base . I would've made so many more mistakes if I didn't have the help I had. If you are a super competitive person, you should really know what you're doing before you start racing in endurance. Track racing and riding endurance are completely different in my opinion. Some of the many endurance people I appreciate so much are: Helen Bonner who taught me a lot about ulcers and taking care of them, Christoph and Suzy Hayes both shared a wealth of information and help if you just ask. Kristin Grace for all-around good knowledge. And Merri Melde helped me from the get-go. She's the one that taught me to be conservative! Endurance is a wonderful sport.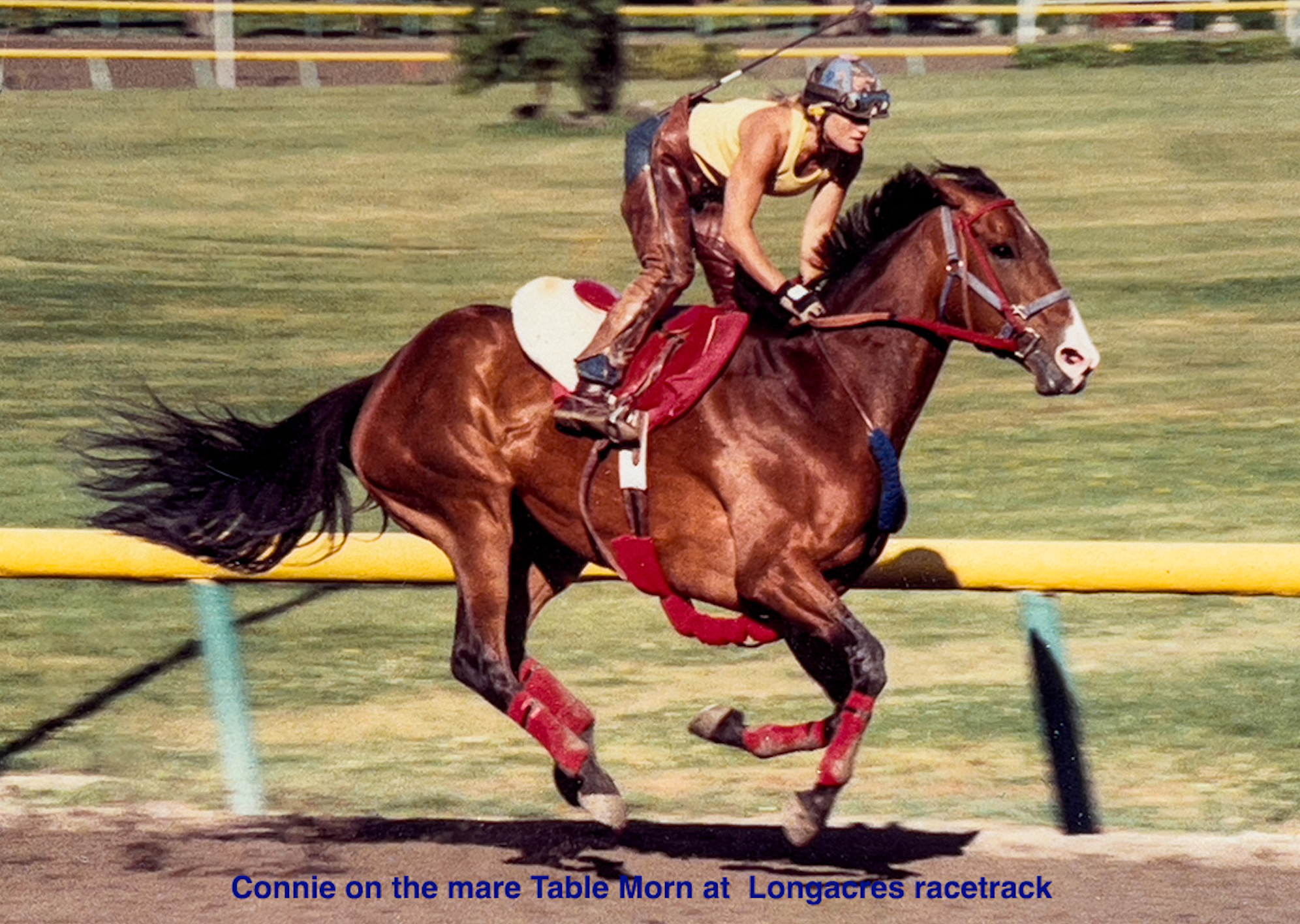 It's fun to be competitive or just ride. And it's really fun to be part of the PNER community for information, and friendship
Visit
https://pner.net/
for more info.