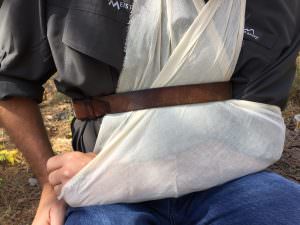 Trailmeister.com - Full Article
As published in The Northwest Horse Source, November 2017 edition.
My summer of trail rides and horse camping was wonderful. Until it wasn't.
You might have heard that I took a tumble recently. It's true. I was riding in the Three Sisters Wilderness in central Oregon when I joined the unplanned dismount club. Although I don't remember all of it, I got to visit the hospital ER, met some great doctors, toured the surgery, and now I have a shiny new shoulder! Fun times.
I can't tell you with certainty what went wrong, although I think it was bees. One moment I was in the saddle taking pictures and the next my head was impacting a tree followed by proof that Newton's law of gravity is true. As I'm finding that narcotic-fueled dreams are anything but pleasant, I've had plenty of time to ponder what went right during my misadventure....
Read more here:
https://www.trailmeister.com/four-ways-save-life/